Welcome to the
People of the Woods
Church of the Old Religion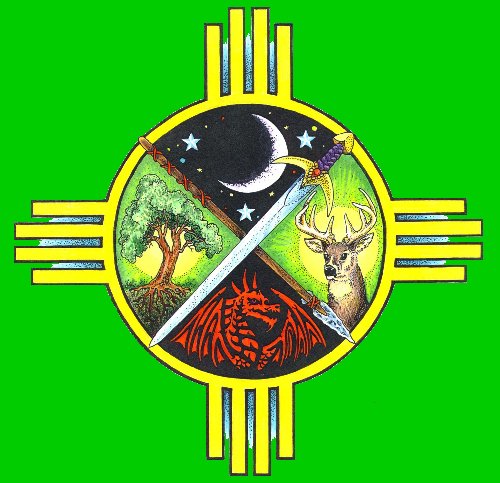 Logo copyright © PWCOR, Inc.
The People of the Woods Church of the Old Religion is a congregation and coven of the Old Religion, sometimes called Wicca or Witchcraft, one of the spiritual paths of pre-christian Native Europeans. We are legally incorporated as a church. We are recognized as exempt from federal income tax by the IRS under section 501(c) (3) of the Internal Revenue Code, dated July 11, 1997.

The People of the Woods Church holds Full Moon and Sabbat observances near Cheney, Washington, USA. Pagans of compatible beliefs are sometimes invited to attend our religious observances of Moons and Sabbats.

Originally named, The First Congregational Church of the Old Religion, we were formerly located in Albuquerque, NM, USA. Residual activity in Albuquerque has diminished and is no longer active in that area. Our name was changed to The People of the Woods Church of the Old Religion in 2013.

The Incorporated Church sponsors a Wiccan coven, "The People of the Woods," which is currently accepting a limited number of suitable new members. The Church provides training, initiation and ordination into the Wiccan clergy in the traditional Wiccan manner. A limited number of apprentices may be accepted for the priesthood of the Old Religion. We do not recruit new members, but we will welcome any who sincerely desires to participate in our religion with us. Read our About the Church page for more information on the coven. Our Wiccan traditoin is an initiatory mystery religion. We are a smoke free congregation.

Ordained clergy of the People of the Woods Church are available to those of similar religious calling for pastoral counseling, marriages (handfastings), baby blessings, and other rites of passage.
Gather you Witches in the night

Gather you Witches in the night while the moon rides full. Gather you Witches in the darkness when the moon is hidden. Gather to follow the old ways, to drum, to sing, and to dance the ageless dance of life. Gather in a circle, man to woman, woman to man, in the circle of life as the Gods have taught you.

Gather you Witches in a circle. Gather you wise ones, you teachers, you keepers of the magick, you Priests and Priestesses of all that is sacred and old beyond knowing. Listen to the wind. Listen to the water. Listen to the fire. Listen to the earth. Hear the heartbeat of the drums and the drumbeat of the heart. Feel the power of magick as it flows hand to hand around the circle.

Gather you Witches in a circle. Call upon the Goddess and welcome her magick as She dances with you. Call upon the God and fear not his power for within the circle He leads your dance. Gather in the circle to celebrated the seasons of the Earth and the sacredness of all life, work the ancient magicks, thank the Gods for the food you eat, and encouraged fertility so that our race will not perish. Call forth the young ones, welcome them to the ancient circle, and pass on the old ways to each new generation. Thus it has been for a hundred thousand generations.

Gather you Witches in the night while the moon rides full.

About the Church

Links to other pagan web sites

Our suggested reading list

Meeting the Witches

Site map of our web pages

Contact The People of the Woods Church in Cheney, WA
This web site of the People of the Woods Church of the Old Religion, Inc., has been on line since 1997.

All of this site is copyright by the People of the Woods Church of the Old Religion, Inc. and others. Please request permission to copy or use any text or graphics.
Disclaimer: This web site contains some graphics and code provided by others. Some of the graphics were from other web sites where they were advertised as being available for use by anyone for non-commercial purposes, however we can not verify the actual originator of each. If you are the artist who created any these graphics and you have not given your permission for their use, we do not intend to use any item of art without permission. Please notify us of any improper or unpermitted use, and the item will be discontinued immediately. May the Lady and Lord bless your day.

People of the Woods Church logo by Moonstar


Revised Eostar 2014